Mortica has been wonderful enough to set up a Discord server for TNG! Many of us have already been using it,  but many questions have popped up over the past couple of days, so I decided to put together a list of tips and features. 
How to join: 
You can join the server by either following this link:  https://discordapp.com/invite/014zyeK0wCAMGd6Ki
Or by clicking Connect on the Widget found on right hand side of the forum main page.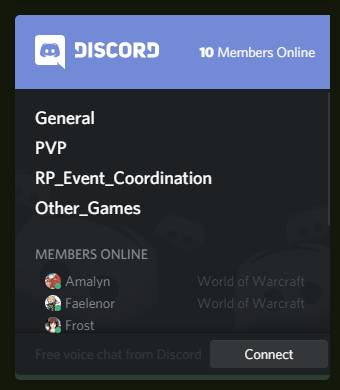 Changing your User Name or Avatar
Click on the gear symbol in the lower left hand corner near your name. This will open up the User Settings. Here, you can change your avatar, nickname, privacy settings, etc. 

Mute Notifications
The constant notification sound can get pretty noisy when there's a lot of chatter going on. If you want to quiet things down, click on the Bell icon in the upper right hand of your screen. 

Page a user or the whole channel
Another neat trick: If you want to get someone's attention and they aren't currently watching the chat, use the @ symbol and select their name from the dropdown. They will get an alert notification that someone is talking to them.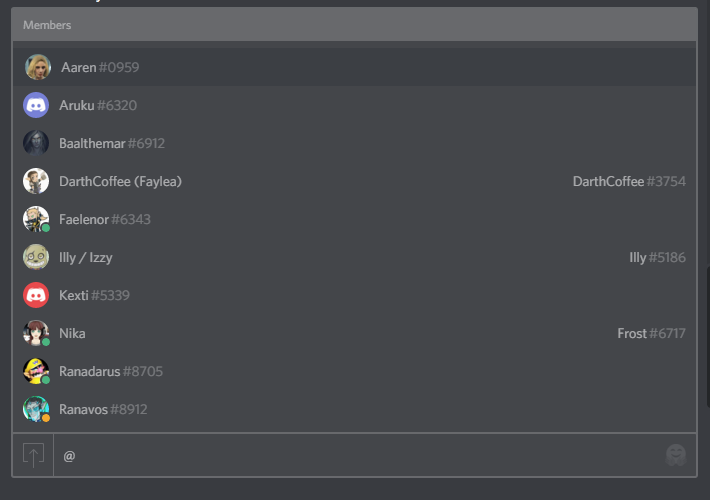 Additionally, you can @ Everyone to ping the entire channel. Posts using the @ symbol will appear as highlighted text.  

Private chat
If you want to have a private conversation with someone, you can send them a direct message by right clicking their name in the user list on the right hand side and selecting message. This will open up a private window with that person.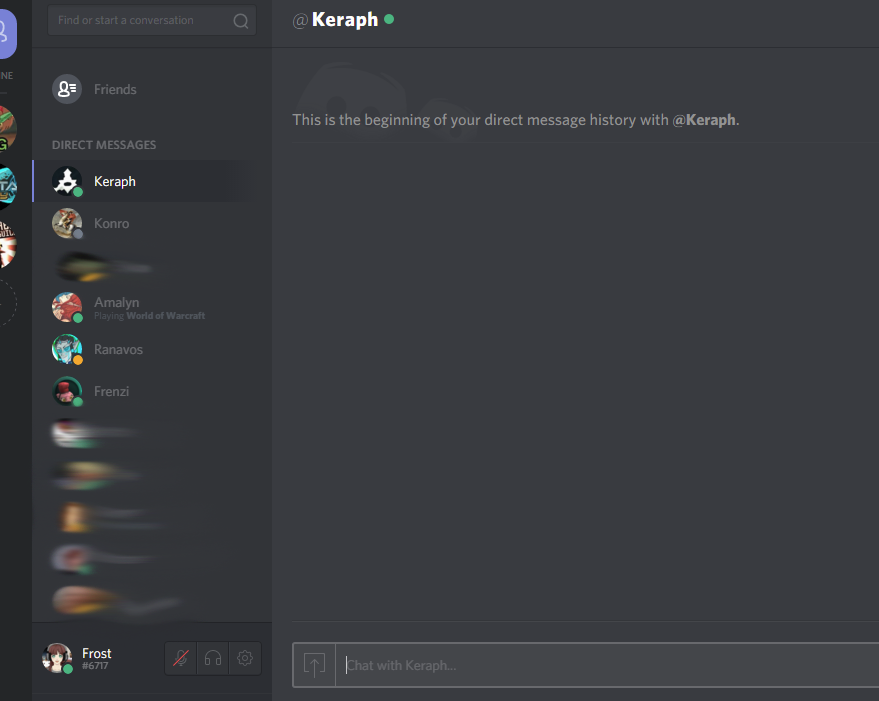 Privacy settings
Notice how some people have the game they are playing listed beneath their name? If you want to hide that, Select Games under user settings and uncheck the box under Game Activity.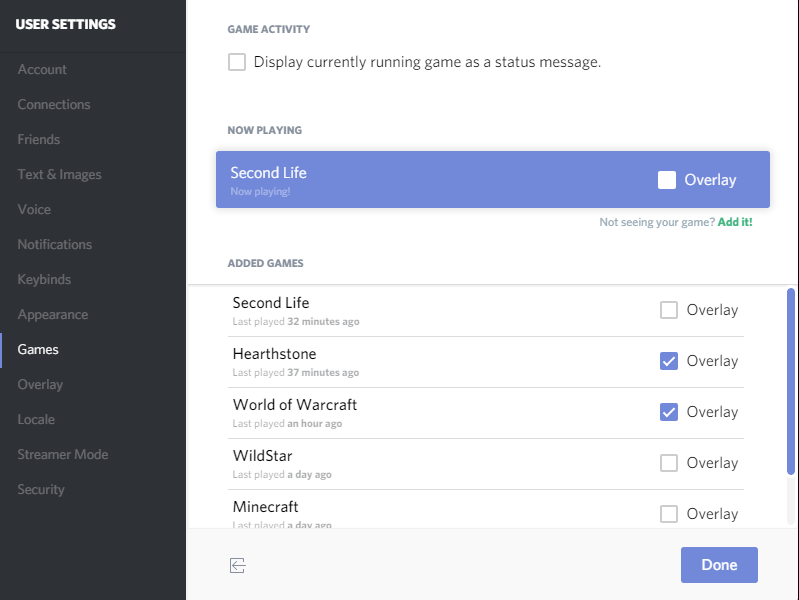 How Voice Works
Voice chat can be a little bit confusing until you get used to it. By default, you do not have voice enabled unless you click on one of the Voice Channels listed in the menu on the left hand side of your screen.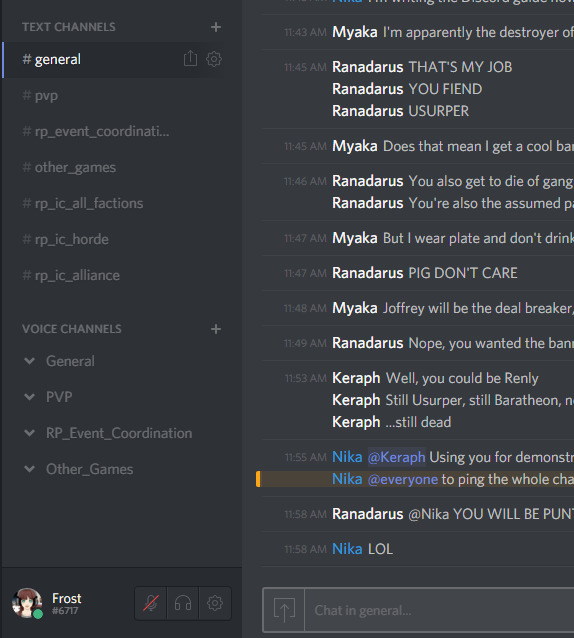 Clicking on the Voice Channel will enable voice in that channel. You can see a list of who actively has voice enabled in a particular channel if you see their name in the list.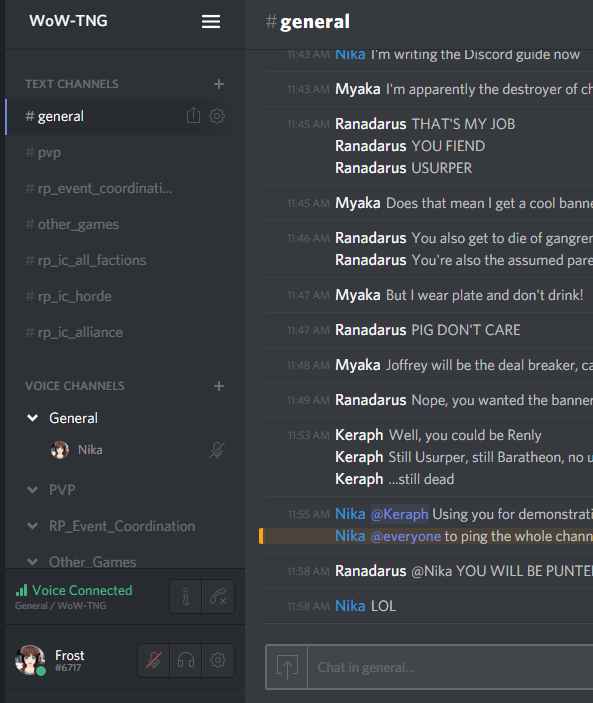 It's important to note that you will still be able to type in the text channel as normal, but you must click on the voice channel to hear or use voice. Click the phone X icon to leave the voice channel. You can also click on the microphone or headphone icons to mute or deafen  yourself rather than jumping in and out of the voice channel. You can only be in one voice channel at a time. 
Remember to select the corresponding text channel if you want to type in the voice channel you are using. (For instance, click on PVP in the text channel category if you are using PVP voice and need to type to the rest of the people in the voice chat.)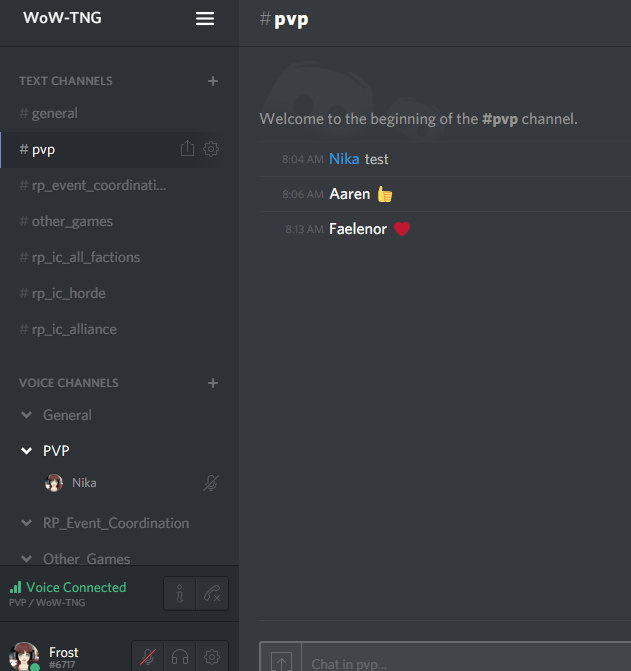 Other fun stuff
Discord is available on mobile devices! 
We have added channels for PVP, Other Games, RP Event Coordination (This will especially be handy for communication during cross faction RP events, since Blizzard took out Bnet conversations.) and IC Rp channels should anyone feel like RPing when they can't be in WoW. 
Photo and youtube links are embedded! You can watch youtube videos directly in the discord app without having to click on any links.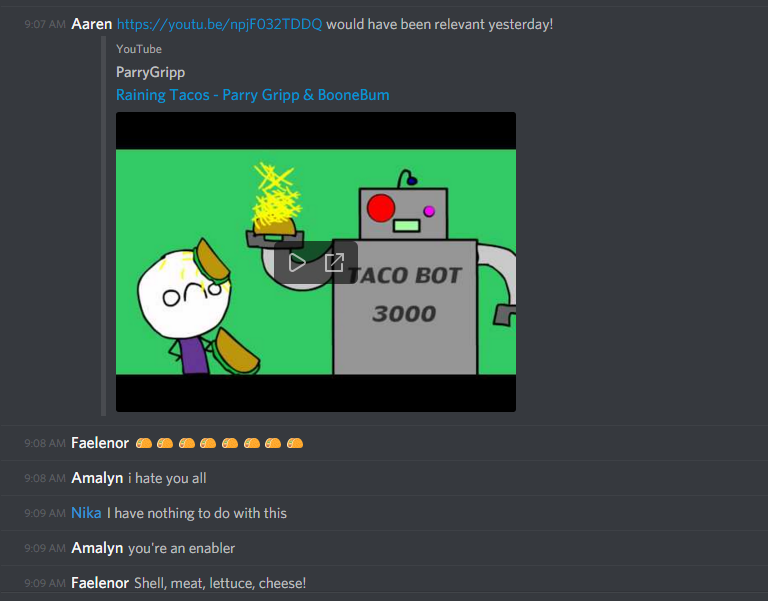 I think this covers most everything I can think of right now. If anyone has any specific questions that I haven't covered, please let me know!